Video Transfer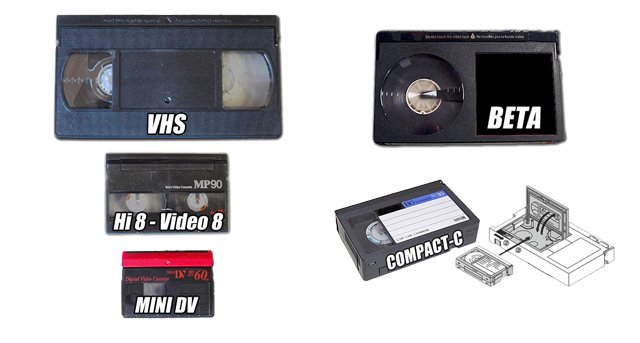 Video Tape Transfer
VHS & VIDEO CASSETTE TRANSFER
We Can Also Transfer to Harddrive
VHS tapes have a limited lifetime and they can show signs of degradation in as little as five years, where as a DVD lasts a lifetime.
We can also transfer the following formats:-
Video (VHS) to DVD
VHS-C Tapes to DVD
Mini DV tapes to DVD
Hi 8 & Digital 8 Tapes to DVD
Our VHS and Video Cassette transfer price includes:-
High Quality transfer of your VHS Tapes
Personalised DVD cover as per your nominated title
10 day turn-around
100% satisfaction Guarantee
We Can Also Transfer to Harddrive
TAPE FORMATS PRICE LIST
• VHS • VHS-C (Compact C) • Hi-8 • Video 8 • Mini DV • Compact C

PER TAPE
PRICE EACH
*FLAT RATE (transfer from one VHS to one DVD one hours maximum)
$25
*NO further discounts apply to flat rate
For a video format that is greater than 1 hours in viewing length additional DVD's will be required at the cost of $20 per DVD. Eg: Supply for 1 video over 2 DVD's = $45
$20
Additional Copies
1-10 copies
$15
11+ copies
$10
Archive Copy
$15

Film Transfer

Film Transfer
8mm Standard and 16mm or Super 8 Film transfer to DVD or Harddrive.
Preserving your precious memories to DVD or Harddrive
Do you have 1 or 100 reels of priceless memories on film sitting in a box? Do you have a projector that has blown its globe or maybe its belts have perished and you have no way to play the film. Or the thought of dragging out that box and trying to make the projector work involves too much effort. Shutterbug can transfer all of your films onto DVD or Harddrive so its simple to view them whenever you want to.
Film Transfer price includes:-
High Quality transfer of your films using frame by frame scanner
Professional cleaning of film
Any sound is retained
Menu Structure
15 minute edit
Personalised DVD cover as per your nominated title
14 day turn-around
100% satisfaction Guarantee
FILM

8mm - Standard 8 – Transfer to DVD (Price is for film with

NO SOUND

strip on film
PRICE PER REEL
50ft
100ft
150ft
175ft
200ft
250ft
300ft
350ft
375ft
400ft
600ft
4 min
8 min
15 min
22.5 min
30 min
*FLAT RATE
$35
$70
$105
$123
$140
$175
$210
$245
$263
$280
$420



Additional Copies

1-10 copies
$15 ea
11+ copies
$10 ea

Archive Copy

$15 ea
FILM

8mm - Standard 8 – 16mm - Transfer to DVD (Price is for film with

SOUND

strip on film
PRICE PER REEL
50ft
100ft
150ft
175ft
200ft
250ft
300ft
350ft
375ft
400ft
600ft
4 min
8 min
15 min
22.5 min
30 min
*FLAT RATE
$55
$110
$165
$193
$220
$275
$330
$385
$413
$440
$660



Additional Copies

1-10 copies
$15 ea
11+ copies
$10 ea